The 8 Most Important Leadership Behaviors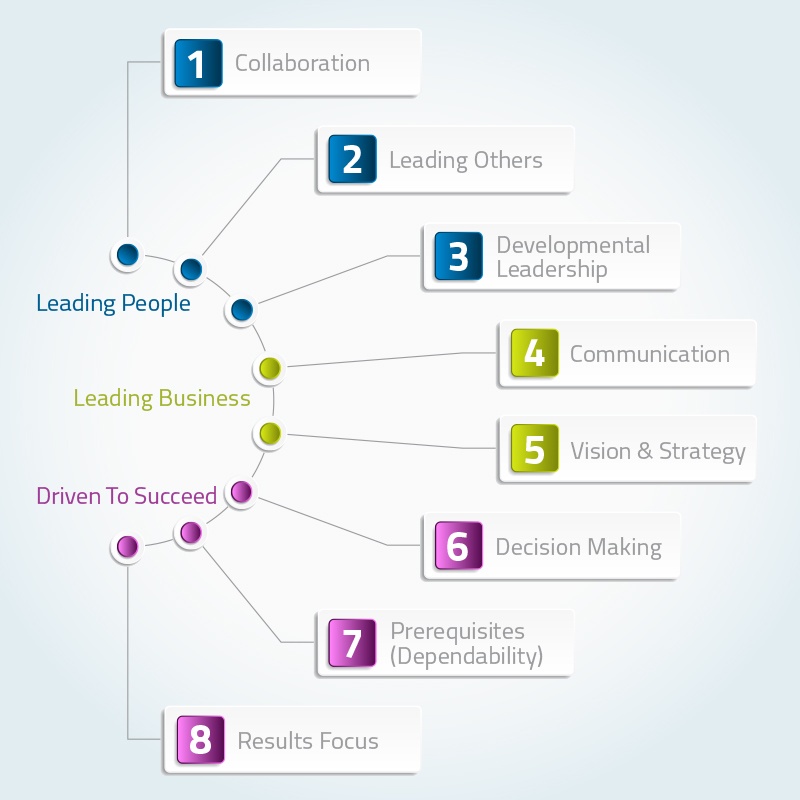 There are several excellent leaders in the world, many of them are "natural born leaders". If you ask their parents or childhood peers, they would tell you, "I knew they were destined for greatness". For the rest of us, we may have a few of the traits / behaviors to become great leaders, however, it takes work – MBA programs, leadership seminars, etc. To truly be a great leader there are three main areas that need constant focus.
Leading People

---
The people side of business drives success and provides a competitive advantage. Leaders who differentiate themselves build sturdy relationships, align team goals, inspire others, and encourage teams to reach their potential are at the heart of the company.

Leading Business

---
When we think of leadership, especially executive leadership, it becomes crucial to not only craft the business by having a broad perspective on business and developing the vision – it is also paramount executives clearly communicate the vision and goals within their team or organization.

Driven to Succeed

---
The role of a leader is less dependent on a title and more importantly a part of who they are and how they have embraced learning throughout their life. Vital leadership attributes include deep commitment, a strong drive to achieve with purpose, and excellent resolution.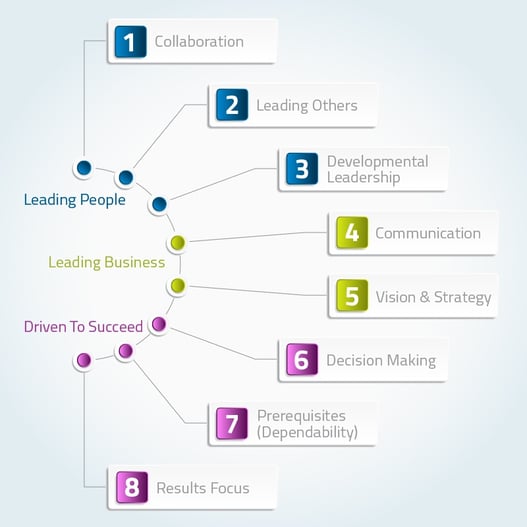 Within the three categories there are
eight essential leadership
behavioral competencies that need to be measured
and developed.
Refer to these competencies to align
your leaders to your company strategy.
---
1. Collaboration - Understanding the importance of relationships to enabling effective teamwork. Modifying personal style, focusing on the needs of others, and listening effectively to ensure effective outcomes for group endeavors.
2. Leading Others - Acting in a leadership position to achieve desired results by inspiring trust in others, providing clear direction, and effectively attracting and deploying talent.
3. Developmental Leadership - Actively encouraging others to reach their highest level of effectiveness as individuals and as teams. Seeking out developmental opportunities for self and for others.
---
4. Communication - Interacting with other through verbal and non-verbal means to present information in an engaging and understandable manner. The use of listening and other attending behaviors to gain a shared understanding of the topic at hand.
5. Vision & Strategy - Defining and creating a compelling vision for the future and the implementation of strategies necessary for success.
---
6. Decision Making - Making high quality decisions in a timely manner, usually with less data and analysis than might be desired.
7. Dependability - Attributes of ethical behaviors, high personal standards, and sound work ethic all employers should expect of employees.
8. Results Focus - Taking a dynamic approach to work characterized by initiating decisions and actions. Concentrating on achieving the outcomes of a process or project while adhering to the overall strategy of the organization. Creating a culture of accountability and performance.
---
At ThinkWise, our goal is to provide you with the tools
necessary to make smart Employee Development decisions.


Now we're taking it one step further:

We're now offering FREE Competency Model exercises, so you can get started selecting the competencies that are essential to your business. Your model can then become the 'blueprints' for hiring, managing, and developing your people.
Click here to get full access to the ThinkWise Competency Model toolkit