Seven Important Management Behaviors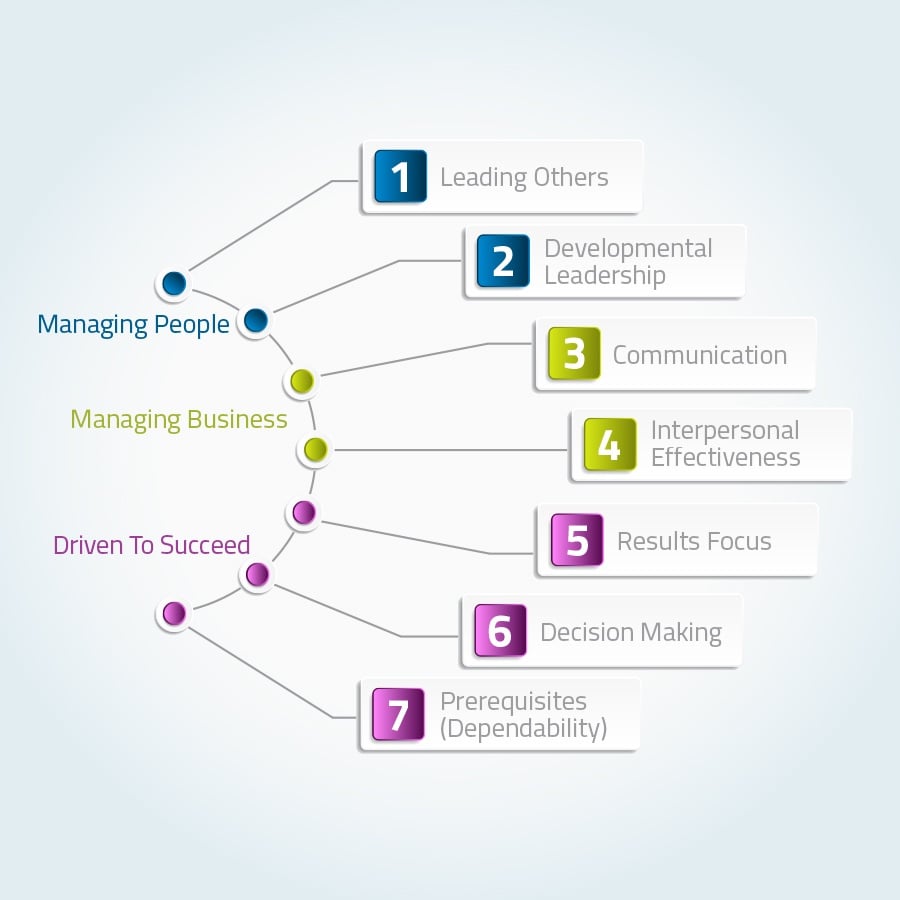 Within many successful organizations, management level positions are the bond between daily system activities and individuals, teams and the organization. Therefore, regularly measuring and developing your managers is more important than ever to stay competitive. As you kick off your development programs in the new year, consider focusing on seven important management behavioral competencies within the following three categories:
(The chart below shows a graphic representation of the seven competencies within the three categories.)
Managing People

---
The people side of the business drives success and provides a competitive advantage through great product innovation and excellent customer service. Managers who differentiate themselves build solid relationships, achieve team goals, inspire others, and encourage their subordinates to reach their potential. They establish the important link in the organization between the executive management team (vision & strategy) and the companies knowledge workers (daily activities).


Managing Business

---
Great management starts and ends with clear and effective communication, at both the team and individual levels. Regular interaction to define and achieve goals and mitigate conflict is also important to the success of teams and the organization as a whole.

Driven to Succeed

---
The role of a manager can carry significant responsibility, accountability, and authority. Therefore, important attributes include commitment to team goals, a strong drive to achieve with purpose, and creating a culture of accountability and performance.
Within the three categories there
are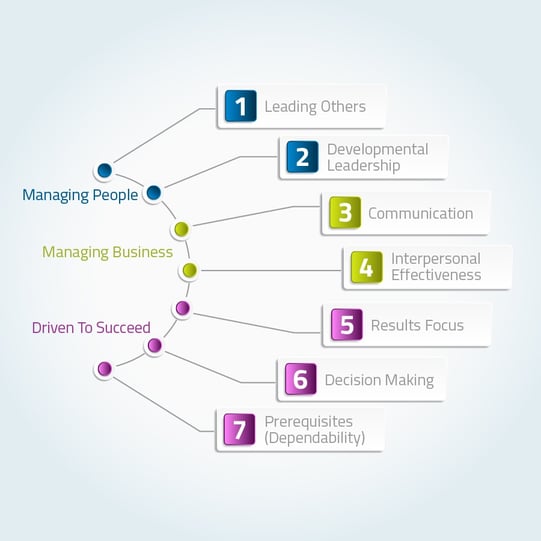 seven essential management
behavioral competencies that need
to be measured and developed for
your managers.
---
1. Leading Others - Acting in a leadership position to achieve desired results by inspiring trust in others, providing clear direction, and effectively attracting and deploying talent.
2. Developmental Leadership - Actively encouraging others to reach their highest level of effectiveness as individuals and as teams. Seeking out developmental opportunities for self and for others.
---
4. Communication - Interacting with other through verbal and non-verbal means to present information in an engaging and understandable manner. The use of listening and other attending behaviors to gain a shared understanding of the topic at hand.
5. Interpersonal Effectiveness - Interacting well with others to achieve goals with minimal conflict and confrontation.
---
8. Results Focus - Taking a dynamic approach to work characterized by initiating decisions and actions. Concentrating on achieving the outcomes of a process or project while adhering to the overall strategy of the organization. Creating a culture of accountability and performance.
6. Decision Making - Making high quality decisions in a timely manner, usually with less data and analysis than might be desired.
7. Dependability - Attributes of ethical behaviors, high personal standards, and sound work ethic all employers should expect of employees.
---
At ThinkWise, our goal is to provide you
with the tools necessary to make smart employee development decisions.

The ThinkWise 360 Survey is a great foundation for development.

Our 360 report provides a wide range of feedback from a category overview to detailed item and rater insights.
The system also has several templates to choose from, including a leadership template that measures the seven competencies that are highlighted in this article. Lastly, our report has additional learning resources linked within the report, to assist with the development process.
Click here to get a sample 360 report to see how you can jumpstart your development program!