Important Employee Development Statistics to Consider
According to Gallup's World Poll, many people in the world hate their job and especially their boss. Executives and HR leaders have taken notice. The Deloitte Human Capital Trends Report states that executives and HR leaders are "focused on understanding and creating a shared culture, designing a work environment that engages people, and constructing a new model of leadership and career development."
However there are four employee development statistics that show a disconnect between what executives and HR leaders see as important and what is actually happening.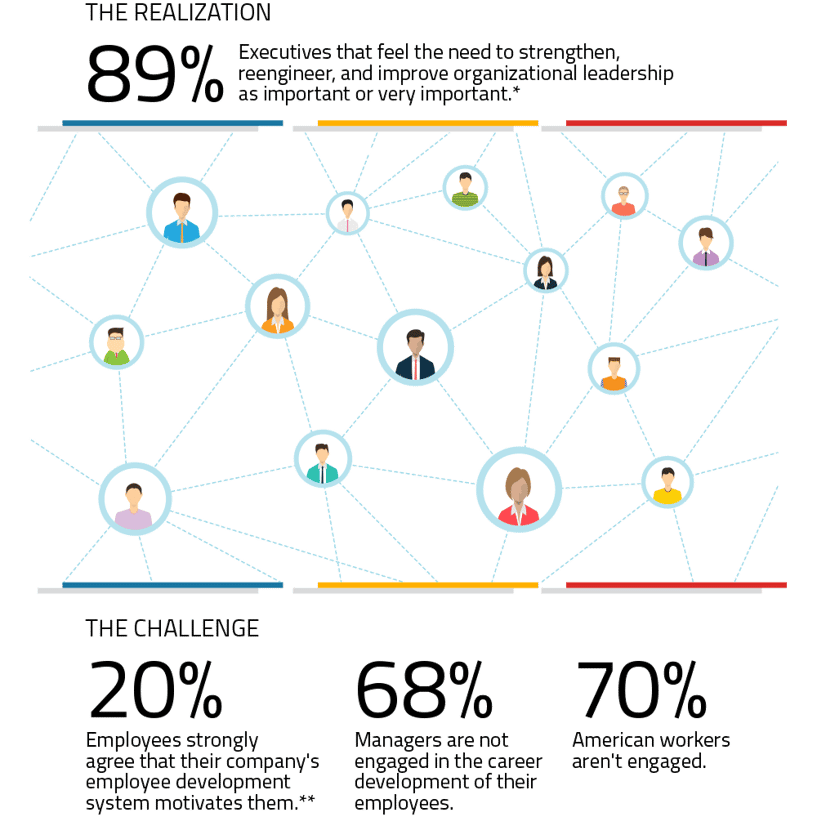 These statistics show the low engagement levels, for employee development, that organizations are confronted with. It's clear that executives and HR leaders see this as an important effort, but with so many options, and opinions on the best way to implement an effective employee development program, progress can be slow.
Getting Started
Gathering employee feedback is an important initial step in the development process, however, many organizations still rely on annual "performance reviews" between an employee and their supervisor. This model requires skilled coaching and many times comes across as criticism rather than constructive, actionable employee feedback. An alternative to the traditional performance review is to provide 360˚ survey feedback. This option is a great way to give employees anonymous feedback from multiple sources.
Interpreting the feedback and linking the results to goals and developmental resources, is typically where the developmental process fails, because making the connection between feedback and learning resources can be a time consuming endeavor. As mentioned earlier, 360's will give your employees comprehensive feedback, but many 360's don't provide the necessary learning resources to act on the feedback.
Give your employees more opportunities to develop skills and stay engaged in the organization.
The ThinkWise 360˚ Survey addresses this disconnect by linking learning resources to the employees top five strengths and bottom five opportunities for improvement. The resource links are right in the report, so it's a great way to quickly implement learning and development. Your employees will be more engaged in their own development and you'll create an alignment between the organizational strategy and your people.
Click the button below to download a 360˚ survey sample report to see how easy developing your employees can be.



Sources:
* Deloitte Human Capital Trends Report
**Gallop